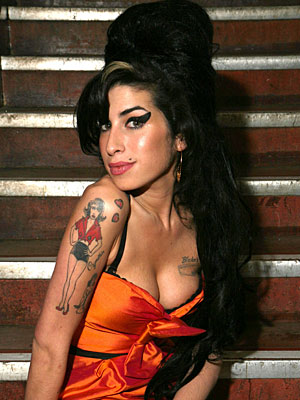 Finding out through text on my way back from present shopping; "As if Amy winhouse was just found dead. Gutting xx". Shocking for a moment, upsetting, but also something that was inevitable due to her uncontrollable drug addiction. Rehab, friends or family couldn't stop her but what a waste of a great talent, someone who would have continued to be successful for years to come. Now just a legend and memory joining the 27 club. Someone who had been immensly passionate about singing and 60s music from the tender age of twelve: "I want people to hear my music and forget their troubles for 5 minutes" ironically died herself a very troubled individual.
Amy sung from her heart, every song was relevant to her and meant something. True talent grown from real passion. Her voice brilliantly unique. Her appearance a dark, sinister yet glamourously 50s look.
Personally I believe her addiction was fuelled from her relationship with Blake. On meeting Blake once in a previous job I found him to be strangely unaware of his surroundings, his friends arrogant and he appeared vacant and quiet.
Despite the fact that drugs seem to have become increasingly acceptable within certain scenes and industries I fail to see the appeal of taking illegal drugs. The consequences of an addiction is what I focus on and unless your life is truly awful and it's as an escape from a vile reality then I really don't see the need. I understand that people dabble in university and when they're young but even then it's not something that I feel the need to do because addiction is always a possibility. Amy's addiction has lead to a tragedy for her family, friends and fans. I feel now, that Amy amongst an endless list of other legends is an example that will hopefully make some people see what a minor drug dabbling can turn into.
R.I.P Amy x